How to choose a hookah for outdoor smoking?
If you are someone who takes pleasure in making barbecues or exploring the great outdoors, and would simultaneously like to enjoy a hookah, then you should learn how to choose the right outdoor device for you. Before we tell you just how, here are some interesting tips about smoking hookah outside:
Smoking a hookah outdoors in the fresh air is a lot easier than smoking in a closed, poorly circulated room. As such, we do not recommend increasing the number of hits or smoking too quickly.
If you forgot water to fill your hookah base, you can use any form of alternative beverage that you already have on hand with you. Juice or wine will only enhance the flavour of the tobacco! Don't be shy – try it out!
Even when in nature, safety is a top priority. Remember to place your smoking device on a flat, stable surface. Don't have access to a table? Try a cutting board.
Place the hookah at a good distance from the fire to ensure that it does not overheat and the smoke remains cool.
If you are in close proximity to a river, lake or body of water, you can place the hookah directly into the water. This will keep the device cool, and will only add to the enjoyment of every pull, especially on a very warm day.
Back to the topic of safety. When you have finished your smoking session, do not forget to put out your coals. You can cover them with sand.
How to choose the right outdoor hookah…
Choosing a hookah that is intended for outdoor use provides a different set of challenges then choosing a hookah for indoor use. There are particular criteria that must be considered. For starters, due to the fact that the smoking session takes place outside the comfort of your house, additional considerations and preparations are required. If you already have a device that is used regularly at home, it is still wroth considering an alternate or additional device that can be used for hiking, camping and outdoor use. Below are the main criteria to consider when buying an outdoor device:
Hookah size: depending on how you reach your final outdoor destination, whether it be by car or via hiking, be sure to consider both the height and weight of the device you choose. This will apply significantly more if you choose to hike to reach your final outdoor space in which case it would make sense to opt for a compact model.
Ensure to select a device that has a sturdy, wide base that allows it to sit comfortable on uneven, textured outdoor surfaces.
Choose a device that is durable and will not easily be damaged if it gets tipped over and falls. Glass is a material to avoid almost entirely when considering an outdoor, portable model.
The Shishabucks Cloud Tank and the Cloud Micro encompass both innovation, portability and functionality serving as ideal outdoor and/or travel hookahs. These models are stable on any surface, their acrylic bases make them durable and they also make a modern statement piece both at a picnic or an outdoor activity. In addition, the Shishabucks accessories are made of high-grade materials such as aluminium which unlike other bowl designs for example made of clay, are very difficult to damage.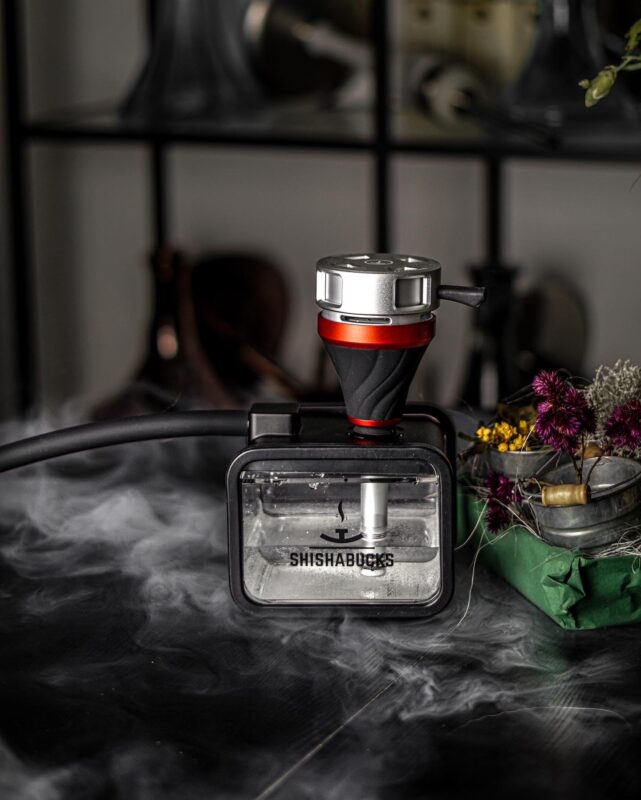 Benefits of Smoking Hookah Outdoors
Adding an outdoor hookah session can greatly diversify your outdoor recreation and pastime. Here is a list of benefits that you can receive from smoking in nature in comparison to lounges and/or home settings:
In the fresh air smoke is perceived differently. This allows you to enjoy easier smoking with stronger tobacco blends and flavors.
Incredible pastime guaranteed! Spice up the regular hangout with a smoking session surrounded by friends and immerse yourself in a change of scenery.
Shisha is a great alternative to alcohol in case you do not want to drink alcohol however still wish to relax and unwind.
An outdoor smoking session allows you to completely submerge yourself in your own thoughts.
These are just a fraction of the benefits that await you when you choose to include smoking hookah into your outdoor recreation. For it to be successful however, you need to choose the right device for your needs.
What do you need to take with you?
With the warm summer days right around the corner it is time to go out into nature and relax with friends by a smoky hookah. But in order to ensure these pleasantries with friends, you need to prepare in advance and not forget anything behind.
Hookah. The main champion of the event. Without the hookah, there is simply no way. The main thing is that you ensure to pack together all the elements that will be necessary to set up your smoking session.
Hose and mouthpiece. If you are going with a large group of friends and are not particular on sharing remember to bring your own interchangeable mouthpiece.
Bowl and tobacco. Do you want to ensure that your bowl reaches the place of the outdoor hangout? Consider purchasing a sturdy, aluminium bowl that is resistant to damage and which can certainly outlive any bumpy road. You can also use fruits such as pineapple, grapefruit or orange in place of a bowl. Tip: fill the bowl with tobacco in advance so that upon arrival you can spend minimal time preparing the hookah.
Water for the flask. You won't smoke a hookah using the river water, will you? Otherwise, you cannot guarantee that you will avoid bacterial infections and parasites. As such, prepare the necessary amount of clean water or another choice of liquid at home in advance or buy it on the way in the required quantity.
Tongs and coals. We want to draw attention to the fact that you should not take self-igniting coal for trips, this will leave a dad taste guaranteed. Also pay attention to the packaging for the coals, it is important that they get to the final destination and nothing happens to them. Make sure to pack them in a sealed container for example.
And now let's talk about packing the hookah and the accessories. This is an important parameter to consider so you should think about buying a case for transporting your hookah(s). If you plan to regularly take it with you on trips, then this is a must have. Unlike other travel hookahs on the market, the Shishabucks Tank and Micro models both already come with a branded carry bag that can fit the device and the subsequent accessories needed for a successful smoking session.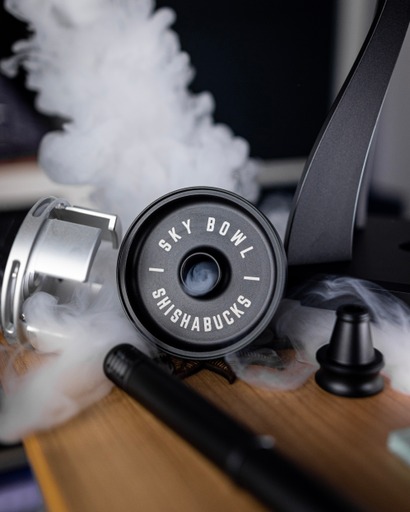 Usage Tips
Now when it comes to using your device in the great outdoors, we recommend the words of wisdom:
Use wind protection. This will make cooking and heat control much easier. Both the regular and premium Shishabucks stratuses work perfectly in this situation as they allow you to manage the heat and protect the coals from wind.
Outdoor smoking is always more exciting and exhilarating then indoor smoking. However, despite this do not forget to smoke at a slower pace. Take breaks and drink plenty of fluids to refresh yourself.
Use a body of water such as a stream to keep your base cool.
If you are using water, remember to use only purified water to fill the base.
Remember to heat up the charcoal well for optimal smoking value. You can use a lighter, the fire or a gas burner.
Now that you have familiarized yourself with the benefits and advantages of outdoor hookah use, below we offer the most optimal Shishabucks devices for the use of hookah in nature settings. They will perfectly accentuate and decorate your weekend and provide an unforgettable experience.